Our Doctors
---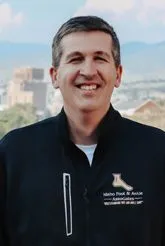 Dr. Andrews, joined the practice in May 2023. He is originally from Phoenix, Arizona and spent his summers growing up in Stanley, Idaho. In his free time, you will find him hiking or fishing with his family and enjoying other outdoor activities.
Boards/Certificates/Licenses
ABFAS Foot Certified - 2020
ABFAS Ankle/Rearfoot Qualification - 2015
Health Profession Organizations/Leadership
Fellow of American College of Foot and Ankle Surgeons - 2020-Present
Arizona Podiatric Medical Association, President - 2021-2022
Arizona Podiatric Medical Association, Vice President - 2018-2020
Arizona Podiatric Medical Association, Secretary - 2017-2018
Residency Training
Beaumont Health Care System PM&S Podiatric Surgical Residency
Wayne, MI - 2012-2015
High level of surgical training in lower extremity trauma, sports injuries, reconstructive surgery of the forefoot, rearfoot, and ankle, diabetic limb salvage. Performed with both Podiatric and Orthopedic Surgeons.
Education
Midwestern University -Arizona School of Podiatric Medicine
Glendale, AZ
Doctorate of Podiatric Medicine, DPM - June 2012
Brigham Young University
Provo, UT
BS in Exercise Science - Dec. 2006
Publications/Research:
Screw vs Plate Fixation for Chevron Osteotomy: A Retrospective Study

JFAS Publication January 2016

Addressing Hallux Rigidus in the Presence of Metatarsus Primus Elevatus

Published in Podiatry Today September 2014
Posters/Presentations:
"Screw vs Plate Fixation for Chevron Osteotomy: A Retrospective Study" - February 2015

Third place - Michigan Podiatric Medical Association

"A Complicated Dislocated Ankle Fracture in an Elderly Patient: A Case Report - April 2014
"Repair of Large Posterolateral Osteochondral Defect of Talus Through Distal Fibula Osteotomy: A Case Report" - April 2013
Ankle Fractures in the Elderly - Nov. 2012

Oral presentation at Michigan Residency meeting